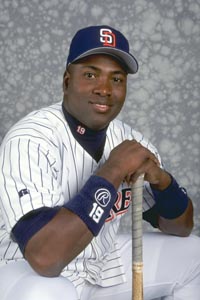 1.Tony Gwynn
Recently the baseball world was saddened by the death of Tony Gwynn. only 54 when he lost his battle with oral cancer. Tony inspired fans for 20 years while playing for the Padres. This prompted me to research other athletes who may have had oral cancer and I was shocked by the names I found! Indeed, according to the Oral Cancer Foundation, 115 new individuals will be diagnosed with this insidious disease each day in the United States.
2. Babe Ruth
Born in 1895, Babe, the quintessential baseball player, was only 53 when he lost his life to nasopharyngeal cancer. Like many baseball players the Babe chewed tobacco. In fact he began chewing tobacco when he was 5 years old!
3.Curt Flood
Curt Flood played for the St. Louis Cardinals and the Washington Senators, losing his life to oral cancer on January 20,1997. He was only 49.
4. Brett Butler
Born in 1957, Brett played for the Mets and Dodgers before being diagnosed with his oral cancer. He beat it !
5. Bill Tuttle
Baseball management
6. Hubert Green
One of the most successful professional golfers, Hubie Green was born on December 28, 1946. A smoker, Hubert beat his cancer and was able to return to the game he loves.
7. Jim Thorpe
Perhaps the most famous American athlete of all time, Jim Thorpe died penniless in 1953 from oral cancer.
8. Charles Robert Hamilton, Sr.
Charles "Bobby" Hamilton was a well-respected NASCAR driver who lost his battle with oral cancer in 2007 at the age of 50.
9. Donnie Walsh
Donnie Walsh was an NBA executive who worked with the N.Y. Knicks and Indiana Pacers during the course of his career. He was a smoker who survived cancer of the tongue.
10. Jim Kelly
A Hall of Fame quarterback with the Buffalo Bills, Jim is now battling oral cancer and has had several disfiguring surgeries but is fighting to survive.
In my next blog: How to keep your children away from smokeless tobacco!
Any questions? Don't hesitate to contact me or the office, Dr. Laurence Stone in Doylestown, PA, today to schedule your next appointment and we can talk more about this. See you soon!
Photo courtesy of TheBaseballJournal.com
Please follow and like us: