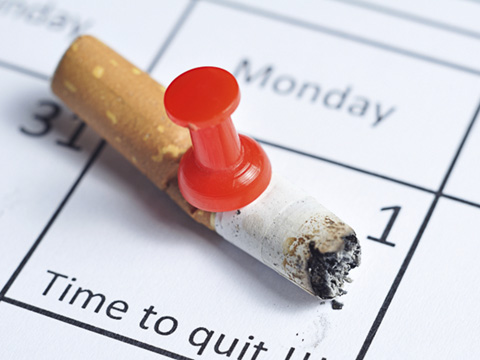 Smoking is one of the worst habits for a person's health. According to the American Cancer Society, "36.5 million Americans still smoke cigarettes, and tobacco use remains the single largest preventable cause of disease and premature death in the world."
Each year November 16th is set aside as the "Great America Smoke-out" in an attempt to encourage people to quit. Here are 6 helpful tips from the American Dental Association to make quitting easier:
Step 1: Have a Plan
Once you've made up your mind to quit smoking and set the date, develop a plan. There are free tools online at smokefree.gov and a toll-free number, 1-800-QUIT-NOW, to help you succeed. Download an app to track your progress.
Step 2: Don't Go It Alone
It will be easier to quit smoking if you have support from family and friends. Let them know you've decided to quit, ask for their support, and tell them specifically what they can do to help. Spend time with people who want you to succeed. Talk to friends who have quit and ask for their advice.
Step 3: Stay Busy
Replace your smoking habit with a healthy habit like exercise. Make plans for dinner or a movie with non-smoking friends. Instead of smoking, chew sugarless gum — it keeps your mouth busy and helps prevent cavities, too. Choose one with the ADA Seal of Acceptance.
Step 4: Avoid Smoking Triggers
Stay away from people, places and things that tempt you to smoke. Some common triggers include stress, alcohol, coffee, and hanging out with people who smoke. Throw out cigarettes, e-cigarettes, vaporizers, lighters and ashtrays, and go to places where smoking isn't allowed.
Step 5: Avoid Other Tobacco Products
Other tobacco products like e-cigarettes won't help you stop smoking. Smokers who used e-cigarettes to help them quit were 59% less likely to stop than those who didn't. There are also no regulations on how many contaminants they can contain, there is a risk of e-cigarette explosions and fires, and more studies are needed to see how they affect your  health. Hookahs are also hazardous. One session is the same as smoking 100 cigarettes. Talk to your dentist or doctor about safe and effective quitting options.
Step 6: Reward Your Accomplishments
Quitting is hard. And, every hour or day you go without a cigarette is an achievement. Take it hour by hour, and reward yourself for small successes. With all the money you save on cigarettes, you can treat yourself to a stress-relieving massage or a pedicure!
As always, my staff and I are available to address any concerns you have about smoking and how you might quit. Don't hesitate ask us the next time you visit our office Dr. Laurence Stone in Doylestown, PA, or feel free to contact us at 215-230-7667.
Please follow and like us: