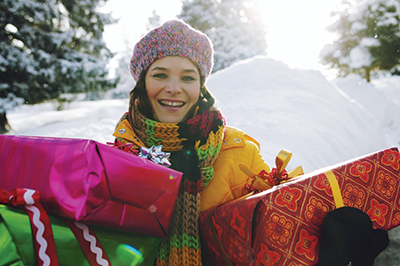 Many people romanticize about a "white" Christmas, myself included. The fact is, however, that few people want to see me (their dentist) around the holidays, unless of course they are having a problem! I've found though, that most people these days want white teeth, whether for the holidays or anytime throughout the year. So…I thought I would share a few thoughts about getting and keeping those teeth pearly white!
Teeth are actually light shades of orange, yellow, brown or grey. Keeping them bright through faithful home care and frequent professional cleanings is the best way to insure they stay bright without additional measures. Should you want more however, the least expensive way to lighten teeth is with over the counter "white strips". This can work for many,  but remember, no method can whiten fillings or other dental restorations and some teeth may be resistant to these gels anyway. (Shades of brown and grey are the most difficult to lighten). Always check with us before you attempt to do any tooth whitening procedure.
Your next option, although more expensive,  is really the gold standard..professionally supervised in-office teeth whitening followed by custom fitted take-home trays. Whitening teeth is a process, not a one-time treatment. Professional supervision is really the best way to make certain that you get the results you want and deserve!
Finally, if all else fails, or there are additional issues that need to be addressed like chipped or crooked teeth, you may want to consider porcelain laminate veneers (PLVs). PLVs are custom laboratory-fabricated thin slivers of porcelain that are bonded to the outer layer of one's teeth. They can be used not only to improve the color of your teeth but to also change the shape and make them look straighter! Next time you are in the office ask to see mine. I've had veneers myself for about 4 years now and they were definitely the answer for my situation.
You can see examples of all of these treatments on my website at www.DrLarryStone.com. Whatever your needs are, I'm sure we can meet them and I hope that everyone has a joyous holiday season, a happy New Year, and yes…a white Christmas!
Please follow and like us: