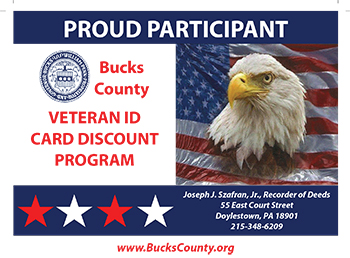 A recent article by a colleague practicing in central Pennsylvania reminded me of my time in the service. I don't talk about it that much, but for 2 years after completing my dental education I served as a Senior Assistant Dental  Surgeon with The United States Public Health Service. I was assigned to the U.S. Coast Guard for two years and provided dental care to enlisted personnel at small boat stations throughout the Great Lakes. Most of my patients were young, fairly healthy enlisted men and their dependents.
Being in the service doesn't pay much and I think we all know how much our veterans have suffered following their service to this great country. It's estimated that 150 million Americans did not see a dentist last year and that in Pennsylvania alone there are dental health professional shortage areas in 64 of our 67 counties.
I'm proud to say that Bucks County has tried to alleviate some of the inequities experienced by our veterans by Instituting the Bucks County Veteran ID Card Discount Program. By presenting the appropriate paperwork to the Bucks County Recorder of Deeds veterans will be issued an ID card entitling them to discounts at local businesses throughout the county- including my office. In addition, I keep a list of resources in the area that may be able to assist all those less fortunate in accessing dental care.
There's no reason why our veterans, those who have given so much to this country, should have to go without dental care when they need it the most. If you want to help and have a service or product to offer, call the County Recorder of Deeds to volunteer for this worthy program.
If you are a veteran in need of dental services, Be sure to contact me or the staff at my office, Dr. Laurence Stone in Doylestown, PA to discuss any concerns you may have and to schedule an appointment. We look forward to serving you.
Please follow and like us: