You may be surprised…most of ours do.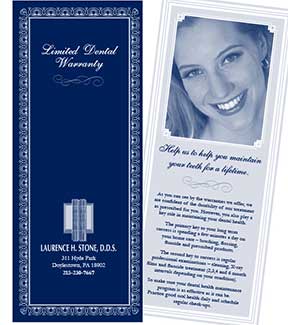 Occasionally people ask me half-jokingly if I offer a warranty on the dental work we perform. Obviously they weren't aware that I actually do offer a limited warranty on all dental services we provide. After all…why wouldn't I?
You deserve it and I'm proud of the work my staff and I do. We use first class dental labs and superior materials. My staff is well trained and has to endure the daily rigors of working for me. (Not in itself any easy task – just ask them!) We are continually striving to provide the best dental care available by attending regular continuing education programs and keeping abreast of the latest that modern technology offers.
Most of our services are guaranteed for 3 to 5 years depending on what was done. The only requirement we have to maintain these warranties is that you keep your regularly scheduled maintenance visits. For all the specifics on our warranty policy just ask for a copy of our warranty brochure the next time you are in the office or call and we will be happy to send one to you.
Don't hesitate to contact me with any questions or suggestions you may have or contact Dr. Laurence Stone in Doylestown, PA today to schedule your next appointment and we can talk more about this. See you soon!
Please follow and like us: