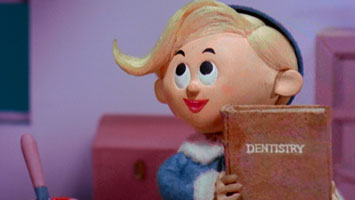 Just a few years ago I was enjoying a nostalgic trip back in time watching the classic animated story of Rudolf the Red-Nosed Reindeer. I had forgotten and was amazed that Hermey, one of Santa's elves, expressed a burning desire to become a dentist!
The show is now celebrating its 50th year and believe it or not, Hermey still wants to be a dentist! The story of Hermey has not gone unnoticed by the American Dental Association, which has officially recognized this brave little elf as a DDG (Dental Do Gooder). To celebrate Hermey, there are some free downloadable coloring pages, a trivia quiz, and an opportunity to enter a sweepstakes for a Hermey Prize package for those young children on your Christmas list at the ADA's MouthHealthy.org website.
Be sure to check out Hermey's "Have You Been Naughty or Nice to Your Teeth" checklist for keeping mouths healthy for your children.
Any questions on how to assist your children with good oral hygiene or any other oral health issue, feel free to contact me or the staff at my office, Dr. Laurence Stone in Doylestown, PA with any questions or concerns or to schedule your next visit so we can talk more about this. Happy Holidays to everyone!
Please follow and like us: