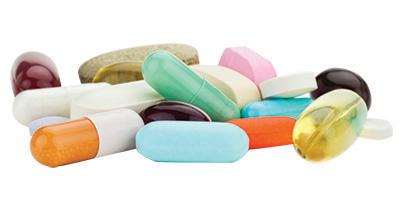 As the population in the United States ages, so does the population of dental patients that are typically seen each day. One of the most noted characteristics of this group is the sheer number of prescription medications they take. The average 65 year old is taking five or more medications for a variety of reasons. One of the most serious side effects of many medications is drug-induced xerostomia (dry mouth), which can be devastating to one's oral health!  (See my prior blog on Xerostomia.)
Another aspect of this "polypharmacy" is that patients taking five or more drugs are at risk of experiencing "prescribing cascade", which occurs when unrecognized side effects of an existing drug prompts physicians to prescribe a new drug to then treat these new symptoms! The elderly and persons with disabilities are especially prone to prescribing cascade. The Beers list, developed by an expert panel to assess inappropriate drug prescribing, consists of a list of medications that are particularly prone to adverse effects in the elderly.
Please consult with your personal physician should you have any questions regarding this issue. And please let us know if you are experiencing "dry mouth". Be sure to ask us at your next visit how you can best treat dry mouth. You can contact me or the staff at my office, Dr. Laurence Stone in Doylestown, PA to discuss any concerns you may have and to schedule an appointment.
Please follow and like us: