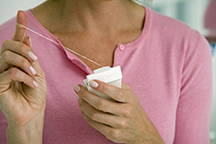 Recently the Associated Press (AP) published an article entitled "Medical Benefits of Dental Floss Unproven". This was a very interesting and well researched piece of journalism. It seems that the research in favor of flossing is not as solid as one would have hoped. This may in part be due to the fact that dental floss has been used in one way or another for over 100 years. It's not surprising that research criteria were not as strict a century ago as they are today. It's also disappointing though, that even the more recent studies involving flossing are not as rigorous as modern science requires.
That being said, it will remain my recommendation to continue daily flossing as it is my personal belief that proper use of floss not only prevents periodontal disease (the number one cause of tooth loss in adults), but also helps prevent tooth decay between the teeth. Let's face it, no matter how well you brush, you can't get a toothbrush in between your teeth to remove bacterial laden plaque. That I can prove!
I can remember my 10th grade history teacher proving that pigs can fly through the use of logic! Common sense however tells us that this is not the case. I suggest that we apply the same common sense to the question of flossing. For now…at least until additional research is done. After all, floss is cheap enough and only takes a minute or two to do.
Until I'm convinced otherwise, I'll stand by my current recommendations:
You don't have to floss every day- just the days you eat!
You don't have to floss all your teeth- just the ones you want to keep!
I'd be more than happy to discuss any of your thoughts regarding flossing the next time you are in the office. In the meantime, if you have any questions regarding flossing, don't hesitate to contact me or the staff at my office, Dr. Laurence H. Stone, DDS, any time at 215-230-7667.
Please follow and like us: