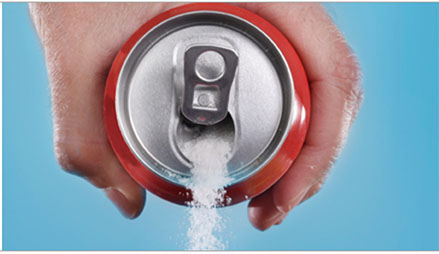 Apparently March is National Nutrition Month! I know- it seems like there's a month, week or day for almost everything! But it does give me the opportunity to discuss some dentally relevant nutritional information, namely added sugars and sugary drinks.
Obviously I'm not qualified to offer nutritional advice, but being a lifelong sugar addict, I do feel that it's my obligation to speak out about sugar. In 2016 the American Dental Association adopted a comprehensive policy on nutrition supporting the World Health Organization's recommendation of limiting added sugar consumption to 6 teaspoons a day for adults.
This format doesn't provide enough space to list all of the medical, let alone dental, reasons why we should limit our sugar, but I'm happy to see that public policies like Philadelphia's sugar-sweetened beverage tax are not only raising awareness but also beginning to show results.
For more information on how what you eat affects your teeth, please visit the ADA's website – mouthhealthy.org. As always, I invite you to call with any questions. Feel free to contact us at Dr. Laurence Stone in Doylestown, PA or call us at 215-230-7667.
Please follow and like us: