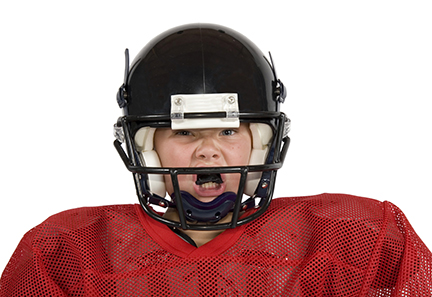 Recently I wrote a blog on mouth guards as they relate to preventing dental injuries in young athletes, and cheerleaders in particular. But there is another and possibly more compelling reason to make sure that any athlete is wearing a properly fitted mouth guard.
A study on the role of mouth guards in reducing the incidence of mild traumatic brain injury/concussion injuries (MTBI) in high school football players appeared recently in the Journal of the Academy of General Dentistry. The study involved six high school football teams totaling 412 players over a single season. The players were divided into 2 groups: those that wore over-the-counter (OTC) mouth guards and those that wore custom fabricated pressure laminated (LM) mouth guards. There were 24 mild traumatic brain injuries (concussions) recorded during the season. The conclusion: Wearing a properly fitted custom-made laminated mouth guard was statistically significant in reducing the incidence of MTBI/concussion injuries when compared to OTC mouth guards.
If anyone in your family is involved in contact sports please have them call our office for a custom-made mouth guard. It's not just about dental injuries! We are so committed to protecting our student athletes that we are offering a program for any high school or college student who participates in organized sports and is a patient with Dr. Larry Stone, having annual cleanings, x-rays and exams, is eligible for a FREE protective mouth guard to protect his or her teeth.
Be sure to ask us at your next visit about this important program for your children. Don't hesitate to contact me with any questions or suggestions you may have or contact Dr. Laurence Stone in Doylestown, PA today to schedule your next appointment and we can talk more about this. See you soon!
Please follow and like us: